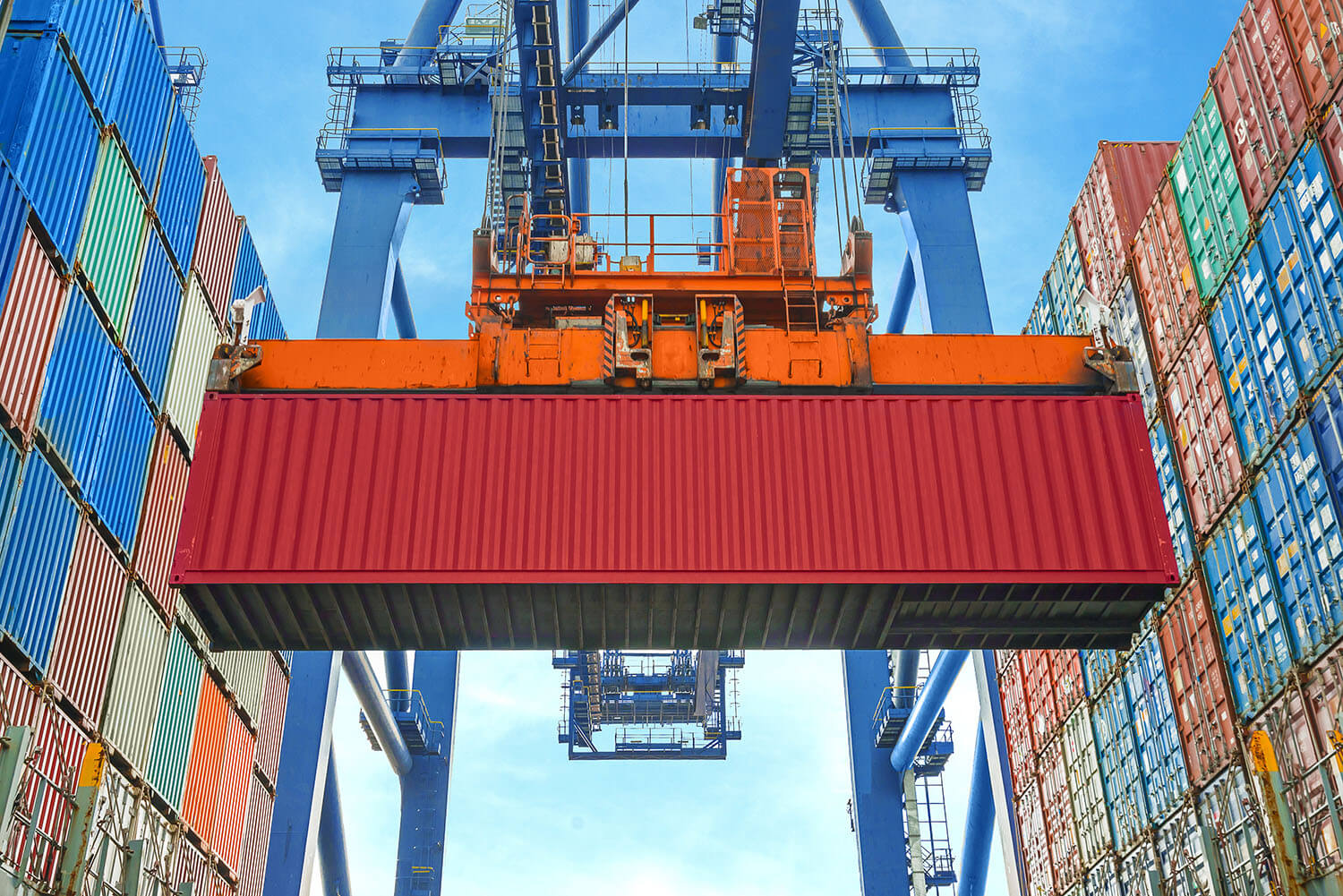 #Shipping Containers • January 06, 2018 • 3 Likes
How to Stop Condensation in a Shipping Container
Each year, countless tons of cargo are stored and transported across the globe in shipping containers. In fact, cargo ships carry more than 80% of the global volume of trade each year.[1] As of 2019, the international liner shipping industry transported 11 billion tons of goods worth approximately $14 trillion in millions of containers.[2]
With so many goods crossing our oceans each year, safely transporting cargo and ensuring it reaches its final destination unscathed is more important than ever.
Unfortunately, any organization in charge of shipping faces a rather large hurdle in their transportation efforts: Shipping container condensation. Moisture damage from condensation can lead to millions of dollars in losses and can devastate your profit margins.
Learning how to stop condensation in shipping containers can help you reduce cargo damage and improve your bottom line.
What Is Shipping Container Condensation?
The term "shipping container condensation" refers to any moisture that accumulates on the interior of a shipping container during transit or storage.
Condensation in shipping containers occurs when the walls of a container become cooler than the dew point of the air inside the container. Because shipping containers are made of metal, weather changes and other external factors can cause internal temperatures to shift significantly. When a container cools enough, the air can no longer contain its moisture—it has reached its dew point.
At the dew point, the moisture in the air changes from vapor to liquid and begins collecting on the container's walls and roof. This moisture buildup on a shipping container's interior is known as container sweat. Even a moderate amount of container sweat on the walls of a container can affect any goods touching the metal sides.
However, the real problem materializes when excess condensation accumulates on the container's roof. As moisture continues to collect above your goods, it can develop enough mass to fall as droplets. This phenomenon is known as "container rain," and it can affect an entire container of goods.
Although containers transported on cargo ships are more likely to encounter shipping container condensation, moisture buildup is not unique to ocean freight. Containerized goods traveling by land and air are also susceptible to container sweat.
What Happens if You Don't Stop Condensation in a Shipping Container?
Regardless of where it forms on the shipping container, condensation that builds up unchecked can eventually cause:
Packaging deterioration
Mold and mildew
Corrosion
Warping
Caking of powders and other dry goods
Damage to the container itself
Ultimately, any water damage can lead to short- and long-term financial troubles. In the short-term, condensation can turn perfectly saleable goods into write-offs, eating into profits. Shipments with moisture damage can also impact client relationships, triggering long-term losses through contract cancellations or renegotiations.
To understand the monetary loss container sweat can incur, consider the example below:
Imagine you're transporting $75,000 worth of goods in a shipping container. If 10% of your goods are damaged by water or moisture, you lose $7,500 on that shipment. If 20% of the goods were damaged, you're facing a loss of $15,000. Bump that up to 50%, and you're losing $37,500 in a single shipment.
While one incident may be manageable, repeated losses over time can devastate a business. And cases of cargo loss aren't isolated; an estimated 10% of all containerized goods are discarded due to moisture-related damages.[3]
It's important to learn how to stop condensation in a shipping container to avoid these issues and prevent your business from incurring significant profit losses. These losses can quickly add up and impact your business's profitability.
What Affects the Amount of Condensation in a Shipping Container?
The amount of condensation in a shipping container can vary based on container usage, temperature, air space, ventilation, and the moisture content of the goods you're shipping. Let's take a closer look at each of these variables:
Temperature – As cargo moves from one climate to another, temperatures outside the container can change dramatically and impact the internal temperature of the goods. Even on routes without significant climatic changes, temperatures still fluctuate between day and night. Any time temperatures change, moisture can condense on the container's interior walls.
Air space – The more open space in a container, the more air there is. Because air holds moisture, more air space means condensation issues become more likely.
Ventilation – If a shipping container is not properly ventilated, the flow of air can be obstructed. Airflow can help equalize the temperature inside the container with the temperature of the outside air. When the difference between internal and external temperatures is smaller, condensation won't form as readily.
Moisture content of shipped goods – Some cargo naturally reacts to the moisture in a shipping container. These products—known as hygroscopic goods—can release moisture throughout the voyage, especially when the temperature outside the container drops. This moisture then collects on the walls and ceiling. Paper, cardboard, wood, organic materials, chilled foods and beverages, and other commonly shipped products are all considered hygroscopic.
Container usage – How your container is treated during the packing process and throughout transit can also affect the likelihood of condensation. The following aspects of container usage can affect the amount of moisture in the container:

The frequency at which doors are opened

The frequency at which a container is loaded or unloaded

Time of day and weather conditions during loading
While temperature shifts may be the most significant contributor to cargo sweat, learning how to stop condensation in a container means considering all the aspects that affect moisture during transport.
How to Measure Condensation Levels in a Shipping Container
One of the first steps to combating condensation buildup in your shipping containers is understanding the conditions in which your goods travel. Placing a remote sensor in a container allows you to monitor the status of your container in real-time.
IOT-enabled sensors can track temperature, moisture levels, and other variables throughout the voyage, giving you full visibility from a distance.
Knowing that a container has high humidity levels may not save the goods inside from container rain, but that knowledge can inform your future operations and help you decide which shipping solutions to use.
6 Ways to Stop Condensation in a Shipping Container
While it's impossible to prevent moisture buildup entirely, there are several ways to control condensation in your shipping container. Here are six of the best ways to keep your cargo dry and damage-free.
1. Use the Right Pallets
Using pallets to store your goods is common practice, but it's important to consider the moisture content found in wood varieties. The pallet industry is hard-pressed to provide pallets quickly. As such, manufacturers often use fresh lumber, which can have a high moisture content. If a new wood pallet hasn't sufficiently dried out, it can contribute moisture to the air and worsen shipping container condensation.
Even if your pallets aren't new, they can still be chock-full of moisture. Old pallets stored in cold, wet places—especially during winter—are just as likely to contribute to container condensation.
Using plastic pallets may help reduce shipping container condensation, as plastic doesn't absorb moisture from the air. If you must use wooden pallets, make sure they've completely dried before loading.
2. Use Desiccants
Desiccants are products that absorb excess water from the air, effectively reducing the dew point inside the container. Shipping companies often place desiccants inside shipping containers to eliminate moisture that stems from products, packaging, or temperature fluctuations.
Desiccants come in a variety of forms. Depending on your needs and the goods in your cargo, you might choose from the following types of desiccants:
Desiccant bags – Desiccant bags can be hung from the ceiling and along the walls to help reduce the moisture in the air. As the desiccant traps moisture, it reduces the dew point temperature, making condensation less likely to form on the walls of the container.
Desiccant blankets – This type of desiccant is laid or hung over the top of goods in a container. Desiccant blankets are designed to prevent condensation from forming while protecting products from droplets of water. These blankets feature breathable membranes that allow existing moisture from the goods to filter upwards and a leak-proof design that prevents moisture from moving downwards. Some desiccant blankets are designed to create a perfectly sealed environment that prevents the flow of cold or hot air through the container, thereby reducing temperature shifts that could lead to shipping container condensation.
Desiccant pads – Desiccant pads are essential when shipping chilled goods or beverages. These pads lay below the goods themselves. If leakage should occur, the pad soaks up the extra moisture to prevent shipping container rain and fungus growth. Many desiccant pads offer thermal protection that maintains the shipping container's temperature to further reduce the possibility of moisture buildup.
If you're wondering how to stop condensation in shipping containers, desiccants could be a crucial part of the puzzle. Desiccants can help prevent condensation buildup, but it's essential to choose the right solution—and the right amount of desiccant material—to shield your cargo.
3. Consider Dehumidifiers
If you need to stop condensation in a shipping container that's used for storage, you may want to use a dehumidifier. Dehumidifiers typically require electricity, so if your shipping container has access to a power source, you can install a dehumidifier to suck the moisture from the air.
Keep in mind that you'll need to regularly empty the dehumidifier's water or set up a hose system that can plumb the collected moisture back out of the container.
4. Improve Insulation
Insulating your shipping container can greatly reduce the amount of moisture in the air and prevent container rain. Container insulation can keep the contents of your cargo warmer than the dew point, preventing the extreme temperature differences that lead to condensation.
5. Improve Ventilation
Proper ventilation can reduce condensation by equalizing interior temperatures with exterior temperatures. Ventilation funnels warm, moist air out of the container while drawing outside air with the same ambient temperature in. When interior and exterior temperatures are nearly equal, overall moisture levels drop.
There are several ways to install ventilation in a shipping container, but ventilation isn't always the answer. If you're shipping goods in areas that typically see wet conditions, ventilation could pull moist air in and worsen condensation. Avoid using ventilation to combat condensation if you operate in humid climates.
6. Inspect Containers for Damage
Shipping containers may be durable, but damage can still occur during or after transit. As such, it's crucial to look for any signs of structural damage before loading your container.
Cracks or holes in the walls of a shipping container can act as entry points for external moisture. Additionally, with a less-than-perfect seal, temperatures inside the container can fluctuate more dramatically.
Stop Condensation in Your Shipping Container with Eurolog Packing Group
To a certain extent, shipping container condensation is inevitable. But that doesn't mean it has to damage your valuable cargo.
At Eurolog Packing GroupWorldwide, we have years of experience keeping containerized goods safe and dry. With a wide range of packaging solutions, we're proud to help businesses of all sizesand all industries discover how to move their goods safely from Point A to Point B.
Find forward-thinking solutions designed to protect your cargo around the world and improve your bottom line with Eurolog Packing Group.
Sources:
United Nations Conference on Trade and Development. Review of Maritime Transport 2022. https://unctad.org/publication/review-maritime-transport-2022
International Chamber of Shipping. Shipping and world trade: driving prosperity. https://www.ics-shipping.org/shipping-fact/shipping-and-world-trade-driving-prosperity/
Trade Risk Guaranty. How to Prevent Moisture Damage and Protect Your Cargo. https://traderiskguaranty.com/trgpeak/prevent-moisture-damage-protect-cargo/
---
[1] United Nations Conference on Trade and Development. Review of Maritime Transport 2022. https://unctad.org/publication/review-maritime-transport-2022
[2] International Chamber of Shipping. Shipping and world trade: driving prosperity. https://www.ics-shipping.org/shipping-fact/shipping-and-world-trade-driving-prosperity/
[3] Trade Risk Guaranty. How to Prevent Moisture Damage and Protect Your Cargo. https://traderiskguaranty.com/trgpeak/prevent-moisture-damage-protect-cargo/