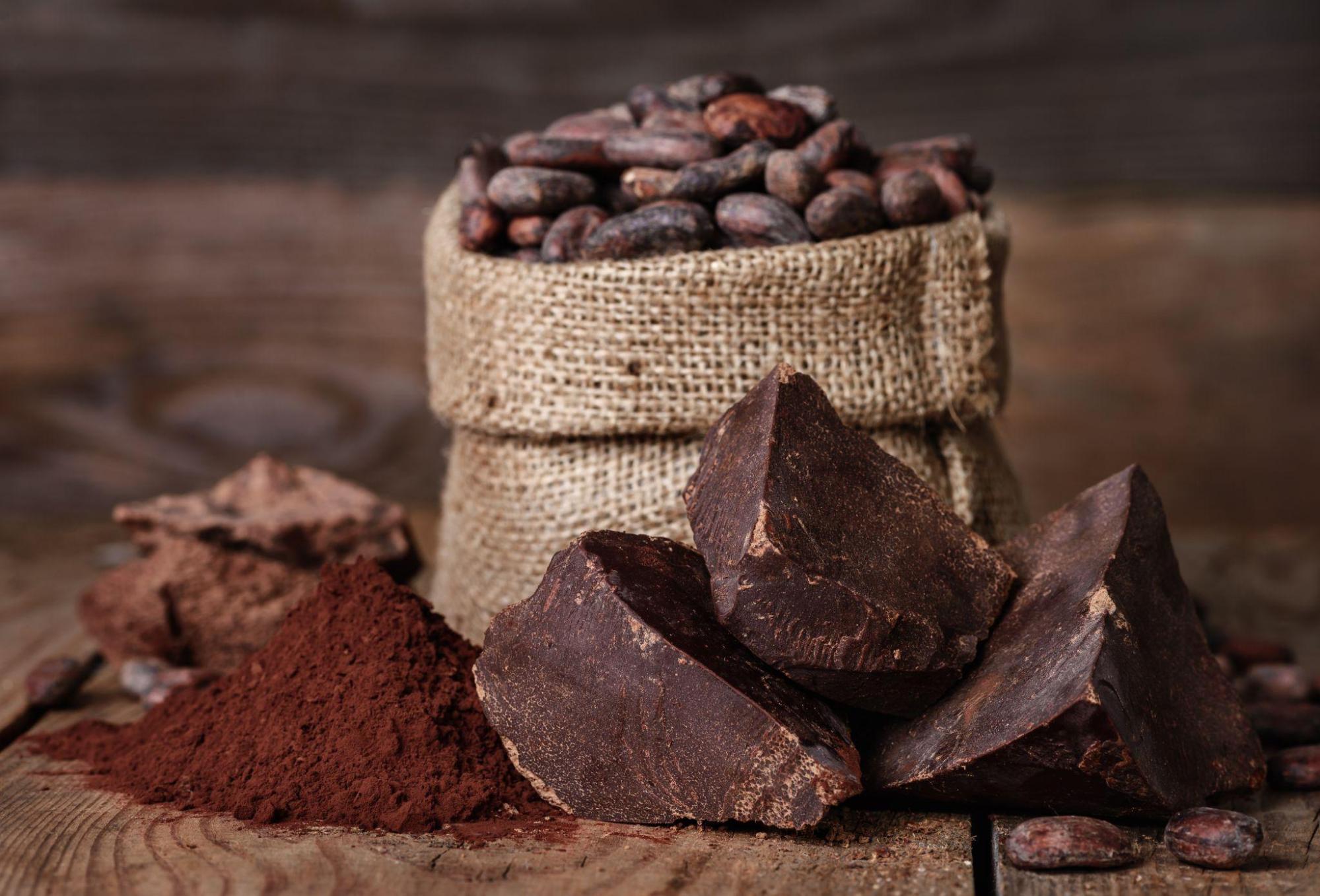 #Shipping Containers • June 10, 2021 • 0 Likes
How Is Cocoa Transported: Shipping and Packaging Tips
The cocoa trade can be immensely lucrative. In addition to being used to manufacture cocoa butter, ointments, and certain medicines, cocoa is the key ingredient in chocolate, which is a beloved dessert around the world. In fact, in the United States alone, Americans spend approximately $22 billion on chocolate each year.
That's all to say that the cocoa trade is a booming industry, and global demand for cocoa doesn't seem to be slowing down anytime soon. And, while a considerable amount of the world's chocolate is consumed in Western countries like the United States and Europe, cocoa production largely takes place in South America and Africa. Four West African countries—the Ivory Coast, Ghana, Nigeria, and Cameroon—produce approximately 70% of the world's cocoa supply. Out of those four countries, the Ivory Coast and Ghana are the two undisputed heavyweights when it comes to cocoa production; together, the two small nations produce more than 50% of all of the world's cocoa.

So how is cocoa transported from Africa and South America to every corner of the globe? The cocoa is packaged and shipped internationally by exporters and received by importers. If you're involved in the cocoa trade, or if you're thinking of entering the industry, then you may be interested in how cocoa is typically transported. In this article, we'll go over common methods for transporting cocoa and share some shipping and packaging tips.
Common Methods of Transportation for Cocoa
As far as how cocoa is transported, there are all kinds of methods. Cocoa beans and cocoa powder can be transported via a marine vessel, plane, train, or land vehicle. Oftentimes, a combination of different methods are employed to get cocoa products from Point A to Point B.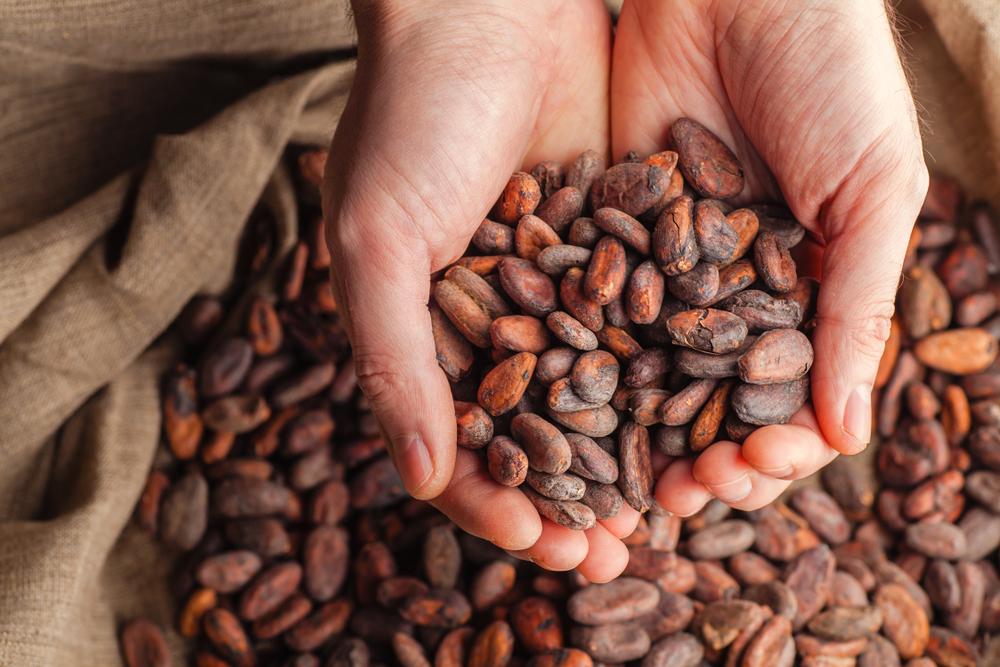 When being shipped internationally, cocoa will usually have to travel by sea on a cargo ship at some point or another. The West African countries that are the largest producers of cocoa are positioned on the Western coast of Africa, meaning raw cocoa products can easily be delivered to the ports and exported to any destination in the world. Before being loaded onto cargo ships, raw cocoa products are placed in specially sealed bags to ensure freshness while limiting spillage and damage.
Cocoa Shipping and Packaging Tips
Whatever transportation method you end up using, it's important to note that cocoa is a relatively sensitive product. It can be negatively impacted by a number of external factors, such as extreme changes in temperature, humidity, and excessive moisture. To keep your cocoa safe while it's in transit, you'll need to properly pack it and carefully control the environment it's stored in throughout the journey.
The last thing you want when shipping cocoa is for it to spoil, spill, or become damaged en route to its destination. That's why we've put together this short list of shipping and packaging tips that can help keep your cocoa shipment safe: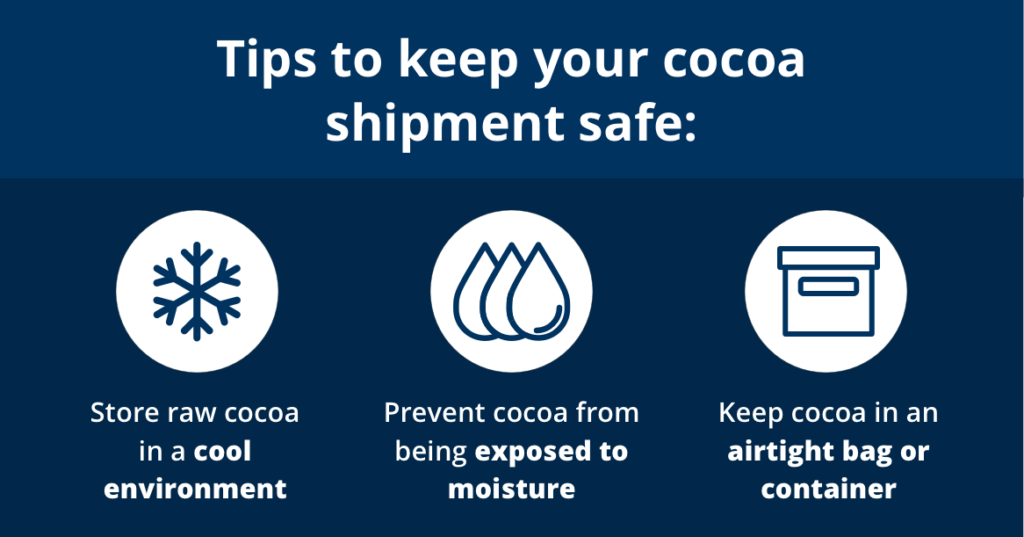 Store raw cocoa in a cool environment. Cocoa is very sensitive to changes in temperature and moisture, which means you must store it in a cool, dry environment for the duration of the journey. Using insulated shipping containers and multilayered storage bags can help the cocoa stay in good condition. However, keep in mind that you don't want the temperature to be too cold, either—freezing temperatures can also spoil raw cocoa.
Prevent cocoa from being exposed to moisture. When exposed to moisture, cocoa can spoil, rot, or develop mold. Additionally, as cocoa absorbs more moisture, the free fatty acid (FFA) levels of the raw cocoa generally rise. An FFA level that's too high can affect the taste and overall quality of the cocoa. Rot, mold, and FFA levels can all contribute to a drop in quality of the cocoa or even volume loss, which means less profit.
Keep cocoa in an airtight bag or container. An airtight bag or container can keep your shipment of cocoa beans or cocoa powder dry and fresh while in transit. In addition to keeping your cocoa fresh, this kind of container can also prevent spillage and keep insects, rodents, and other vermin from damaging your shipment.
Let Eurolog Packing Group Protect Your Shipment
At Eurolog Packing Group, we provide a variety of innovative solutions that can keep your most sensitive cargo safe. Our blankets, absorbent pads and desiccant bags can minimize the moisture levels in any shipping container, creating the ideal dry environment for the transit of cocoa beans. Additionally, we offer shipping container insulation that guards your cargo against extreme temperatures, so you can maintain the cool climate needed when transporting cocoa beans.
When considering how cocoa is transported, there are a few different things to keep in mind. Cocoa beans and cocoa powder are relatively sensitive items to ship, so you have to be careful about how you prepare and package them. Here at Eurolog Packing Group, we have a variety of products that allow you to safely and effectively transport cocoa beans from one place to another. We can even come up with custom shipping solutions that are tailored to your unique needs. Reach out today to see how we can help.