Dangerous Goods Shipping: How to Ship Chemicals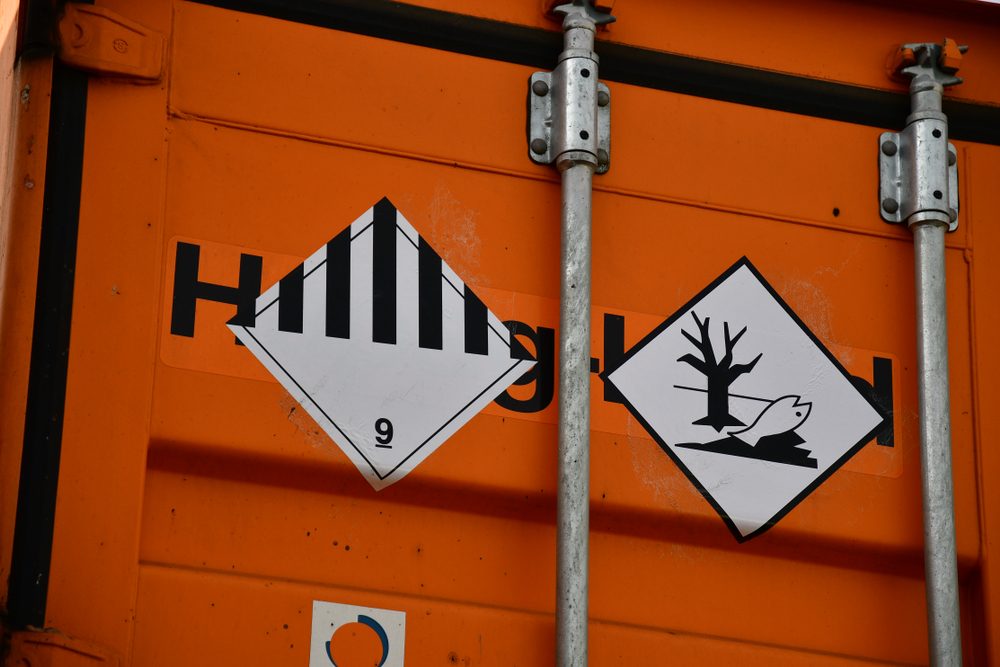 #Shipping Containers • June 10, 2021 • 0 Likes
If you need to ship chemicals to another city, state, or even continent, there are some important things you need to know before you do so. As its name suggests, dangerous goods shipping can be exactly that—dangerous—so, it's essential to know best practices in order to keep yourself, others, and your cargo safe. And as the shipper, it is your responsibility to not only be trained on dangerous goods shipping, but also to follow the rules set forth by carriers and other governing bodies.
In this post, we'll discuss the key things to know about dangerous goods shipping, including guidelines to help you pack your hazardous items safely.

What Qualifies as a Dangerous Good?
Dangerous goods shipping is the transportation of potentially hazardous items via land, air, and sea freight. But what distinguishes a dangerous good from a non-dangerous one, and what makes this type of shipping so different? Let's start by defining dangerous goods.
Examples of dangerous goods can include:
Explosive substances

flares, fireworks, airbag modules

Flammable gas

aerosols (i.e. spray paint, spray deodorant, canned whipped cream), camping propane gas

Non-flammable gas

compressed air, nitrous oxide, compressed carbon dioxide cans

Toxic gas
Flammable liquids

paint, nail polish, acetone, alcohol

Flammable solids
Spontaneous combustible substances
Substances that emit flammable gas when submerged in water
Oxidising substances
Toxic substances
Infectious substances

blood tests and other medical samples

Radioactive material
Corrosive items
Other

magnets, lithium batteries, dry ice
If you're unsure whether the products you're delivering are hazardous goods or not, request a Safety Data Sheet from the manufacturer or supplier (SDS).
What paperwork is required for shipping dangerous goods?
In many cases, you will be required to fill out a shipping paper that includes a description of the hazmat, as well as the UN identification number, proper shipping name, danger class, packaging group, quantity, type of packages, emergency contact details, and a shipper's certification.
Guidelines for Dangerous Goods Shipping
In order to ship dangerous goods safely via land, sea, or air freight, there are some rules and best practices that you must follow. And as we mentioned earlier on in this post, you, as the shipper, are charged with understanding and practicing these guidelines. Let's take a look.
Properly identify dangerous goods
Before you pack any items into your cargo load, make sure to properly identify anything that may be considered a dangerous good. You can use the information above as a starting point, but make sure to defer to the OSHA Safety Data Sheet if you're unsure whether or not your cargo contains any potentially dangerous items.
Keep in mind, different types of carriers (i.e. air and sea freight) have unique rules that dictate how dangerous goods should be handled, so make sure to review their resources as you pack your items.
Follow rules provided by governing bodies
Cargo carriers are each governed by their respective governing bodies—the FAA, for example, is responsible for enforcing rules on air freight systems. As a result, shippers must follow rules set forth by these institutions. If you're working with a shipping company to deliver your items, they will likely be familiar with these rules and precautionary measures, but it's never a bad idea to do your own investigation when it comes to shipping dangerous goods. As they say, you're always better off safe than sorry!
Label hazardous materials accordingly
In order to protect people and other cargo from potentially dangerous situations, you must label hazardous materials appropriately. By communicating the hazardous nature of the contents on the exterior of the container, workers will be able to handle dangerous goods more carefully, and if necessary, facilitate any extra precautionary measures as needed.
Additionally, when you ship cargo via freight, you will be asked to disclose any potentially hazardous items within your cargo load.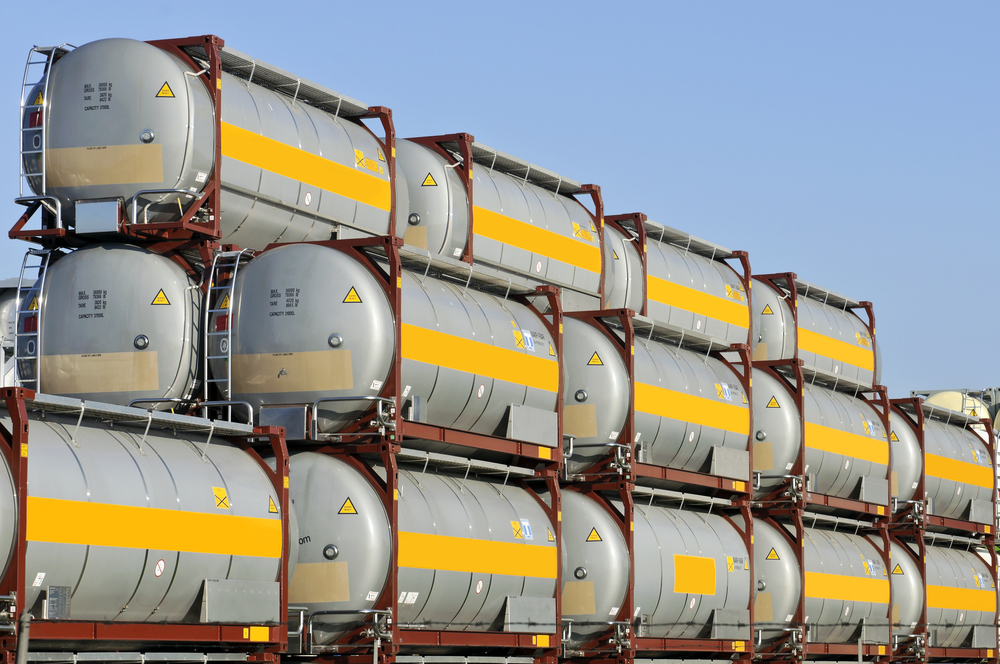 4. Pack dangerous goods properly
As you can see, packing and handling dangerous goods is serious business. In order to ensure that people and cargo are safe while hazardous items are in transit, you must pack your cargo properly. Chemicals and other dangerous items are extremely susceptible to environmental changes, which can pose a serious safety threat to everyone and everything on board. Thanks to technology and smart packing solutions, you can not only protect the integrity of your items, but also ensure climate control, prevent water exposure, and stabilize temperature.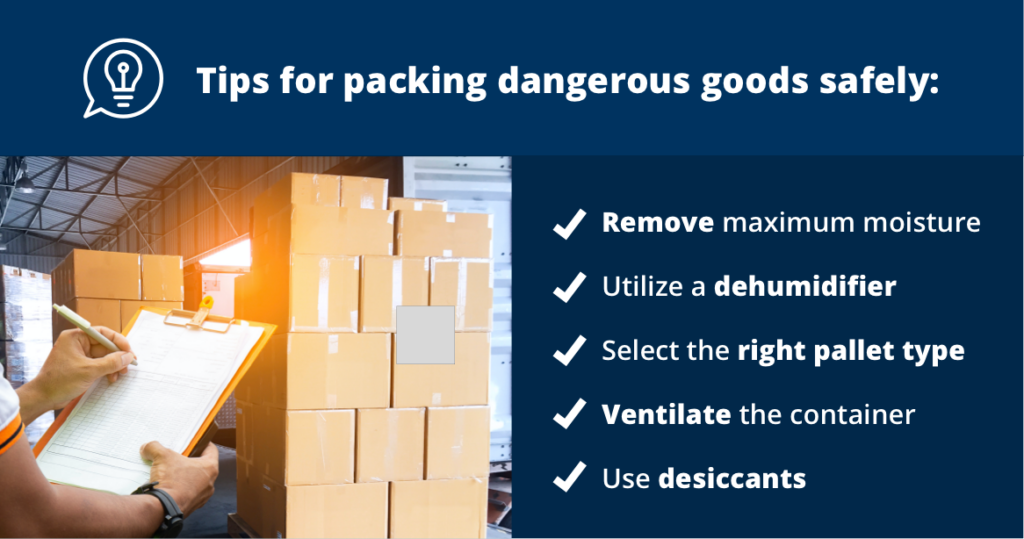 Below are a few tips to keep in mind to pack your cargo safely:
Remove as much moisture as possible: Tie a towel to a broom and brush it across the ceiling to remove excess moisture before packing the load.
Utilize a dehumidifier: These are ideal for extracting moisture from wood flooring before shipment or long-term storage, but they'll need to be plugged in throughout transit. You'll also need to empty the container's contents on a regular basis or attach a hose to the container's outside for drainage. Before investing in a dehumidifier to prevent freight harm, make sure you have all of the correct components.
Select the right pallet type: Make sure you're using the right pallets when loading your container. Pallets made from freshly cut wood that has been exposed to the elements can create a moist environment and pose a risk to your shipment. Consider using non-absorbent plastic pallets to minimize the chances of container rain.
Ventilate: To equalize internal and exterior temperatures, try ventilating. Ventilation will expel warm air from the container and draw in ambient air from outside. Although this is an effective way to avoid condensation and container sweat, it also allows moist air to enter the cargo or freight, which can potentially exacerbate the issue. With that said, ventilation is not ideal in humid climates.
Desiccants: Using desiccants in a shipping container is one of the most effective ways to prevent contents from sweating. Desiccants, also known as hygroscopic compounds, trap moisture in the air, lower the dew point, and keep things dry. They come in a variety of sizes and are effective at preventing container rain, but make sure to use the correct amount and substitute it when required.
Our final tip? Work with a professional packing group. At Eurolog Packing Group, we specialize in safe and smart packing solutions to keep your shipment protected throughout transit. Our creative and custom solutions address issues such as physical damage, changes in container climate, water damage, and more. With our expertise, you can not only learn the ins and outs of dangerous goods shipping and safety protocols, but also rest assured that your goods will be packed securely to prevent cargo loss.
Contact us today to learn how Eurolog Packing Group can help you find shipping solutions that are smart, safe, and compliant.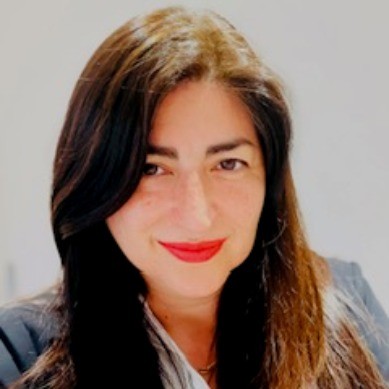 Sandra Malouf is the President of Eurolog Packing Group and has spent her career focused on Industrial Packaging. With a proven track record of helping businesses avoid supply chain disruptions, Sandra's visionary leadership elevates the industry. She's committed to developing sustainable practices and continues to shape the future of industrial packaging by listening to the customer and offering unique solutions applicable to various industries across the world. The company's main focus is temperature stabilization and moisture damage prevention in exports affected by extreme variations in global temperatures.