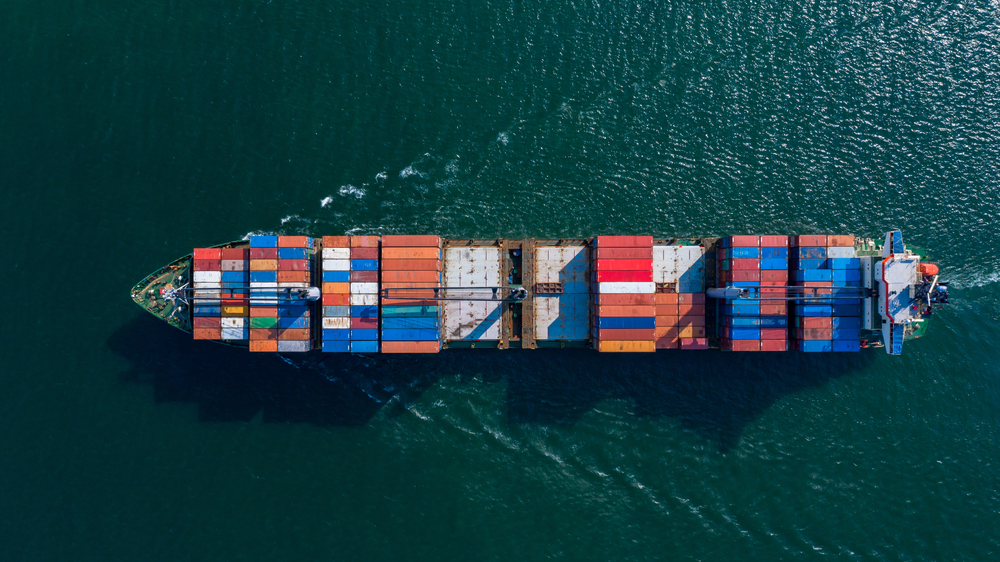 #Shipping Containers • June 10, 2021 • 0 Likes
How Much Does it Cost to Ship a Container Overseas?
Whether you do most of your shopping online or in-store, it's not hard to find imported items from around the world. From international herbs and spices to textiles and housewares, we rely on overseas shipping to deliver the everyday items we enjoy. In addition to consumable goods, personal items may also be shipped overseas, like if you're moving abroad, for example. Whatever the case, the cost to ship a container overseas factors into the transfer process, and it's important to know before you pack up items to send across the world.
Here, we'll answer some important questions regarding international shipping, including:
How much does it cost to ship a container overseas?
How are container shipping costs calculated?
What extra costs should be accounted for?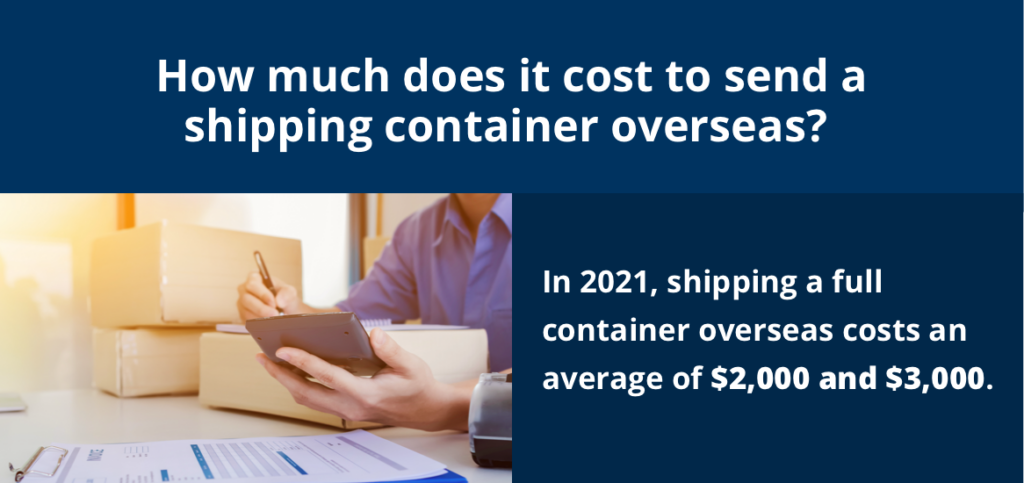 Overseas Container Shipping Costs in 2021
How much does it cost to ship a container overseas in 2021? Shipping a full container overseas typically costs between $2,000 and $3,000; smaller container loads are generally less expensive. Keep in mind, factors such as destination, container size, and individual vendor can impact the total cost of shipping a container overseas. With that said, let's take a look at how these costs are calculated.
How are container shipping costs calculated?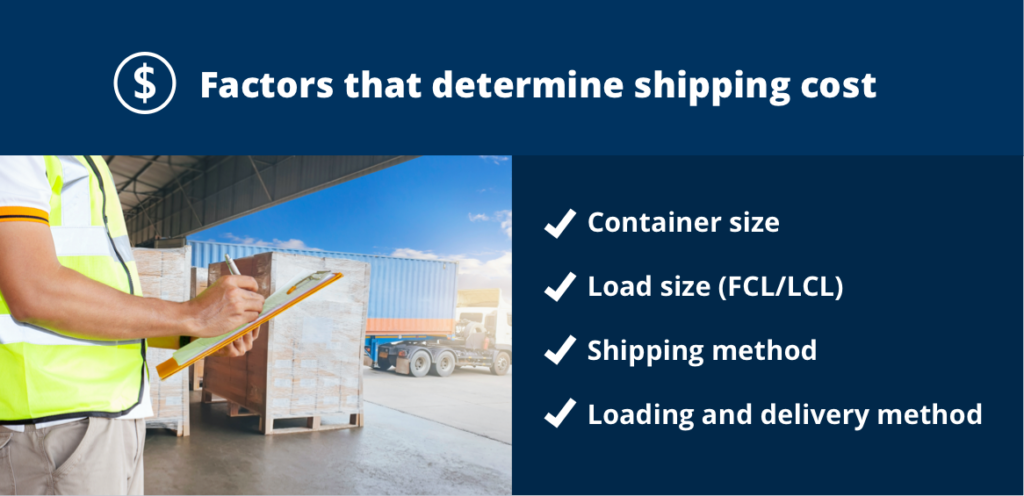 The cost of shipping a container overseas ultimately depends on a number of factors, including container size, load size, shipping method, and loading and delivery options. Below, we'll break down each category to help you plan and budget for your international shipping costs.
Shipping container size: Just like you'd select a box size at the post office when sending a package domestically, you'll need to determine what size shipping container you need when shipping goods internationally. Shipping containers come in various sizes with respective price tags, typically taking up between 20 and 50 feet of space. The larger options cost more, but offer more volume to pack and ship your items.
Load size (FCL vs. LCL): In addition to container size, the capacity of your load can also impact how much it costs to ship your container overseas. There are two categories the shipping industry uses to describe container loads:

Full container load (FCL): A full container load takes up the entirety of a shipping container. In this case, the sender would generally pay for a whole container in order to ship all of their items together. This option tends to be much more straightforward for both the sender and the shipping company because an FCL means your items are not mixed in with another party's.
Less container load (LCL): A less container load means that your items do not take up an entire shipping container. This means that your items will likely be transported with someone else's goods in the same container. LCL can be a good option for sending smaller items, or shipping on a budget, but logistics can sometimes become complicated.

Shipping method: Similar to how we ship domestically, there are several ways you can ship a container overseas, each with their own price tag, advantages, and drawbacks.

Land (via truck or train): Trucks and trains are commonly used in domestic or intercontinental moves, but they're not an option when it comes to overseas shipping. The benefit of land transport is that it's affordable and relatively efficient, but the drawback is that it's limited to destinations that can be reached by roadway or track.
Sea: Sea freight, or shipping by container ship, is generally the most cost-effective way to ship overseas, but it's also the most time-consuming. Depending on the route and destination, sea freight can take anywhere between a few days to several weeks. When transporting goods between continents, however, you usually have no choice but to use a container ship.
Air: Due to its high cost, air freight isn't a very common method of shipping a container overseas. Air shipping can cost up to ten times as much as sea freight. The benefit to air freight, however, is that it is very fast and efficient. If you're only shipping a few boxes on a singular basis, it may be a viable option.

Loading and delivery method: In addition to container size and shipping method, how you choose to have your items loaded and delivered can also impact your total cost. There are generally three options to choose from when selecting a loading and delivery method:

Port to port: This style of transport, as the name suggests, ships your items from one port to the next. From there, you're responsible for figuring out how your shipment will get to its final destination. Port to port is the most basic option, and therefore the most affordable.
Drop and fill: In a drop and fill move, the freight company will drop off a shipping container to you and you're responsible for filling it up. When it arrives at its destination, you'll be required to do the unloading on your own.
Door to door: This is the simplest and most thorough option. When you ship door to door, the shipping company will load up the items from your home or business and unload and unpack them at their destination. Because they offer the most convenience, door to door moves are typically the most expensive option.
Additional costs to consider
On top of the aforementioned shipping costs, there are some other fees to consider when sending commercial or personal items abroad. Let's take a look.
Insurance: Whether you're shipping your home or business overseas, it's a good idea to consider insurance options in case your items are lost or damaged in transit. Of course, insurance costs will add to the total shipping costs, so make sure to do your research and build these expenses into your budget ahead of time.
Packing: Many foreign moving companies will insist on packing your belongings for you. Although it might seem that this is only a way to tack on a fee, there are valid reasons for it. For starters, it aids in the prevention of false insurance claims, which raises everyone's costs. Additionally, it may be because of a tax or obligation.
Taxes and customs: It's a good idea to do some research on how the country you're shipping or moving to handles foreign transfers before shipping your items. Some countries will levy taxes and/or duties based on the value of imported products.
Storage: If you need to temporarily store some of the items you're moving, you may want to look at storage costs at your destination. These fees are generally billed on a monthly basis which can substantially impact your total budget.
Specialty packing: Keeping your shipment safe and secure is of the utmost importance, especially if you're shipping fragile items that require climate control or other protections. At Eurolog, we employ a variety of shipping and packaging solutions to ensure your vehicle, perishable goods, and other important items arrive safe and sound.
Wrapping Up
Moving your home or shipping products overseas involves a substantial amount of planning and money. On average, shipping a container overseas costs between $2,000 and $3,000, but may vary depending on the container size, loading and delivery, and extra costs.
Whether you're sending off your beloved personal items or consumer goods, Eurolog Packing Group helps keep your goods safe throughout the international shipping process. Contact us today to learn how our solutions can streamline logistics and keep your shipment protected.